Three countries, one city – Basel
Reading Time:
9
minutes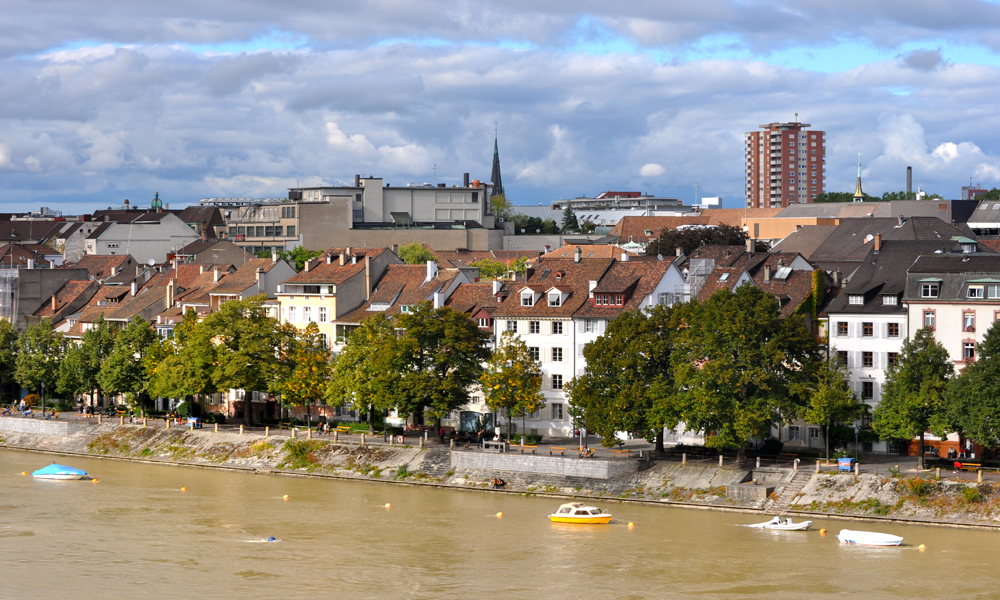 (also the home town of Roger Federer)
Travel is about experiences and the highlight of my trip was my visit to Basel where I would be running my third FULL marathon – 42.195 kms in less than one year having completed my first FULL marathon last October in Amsterdam, followed by the Mumbai Marathon in January 2013.
Basel was an interesting choice as most marathoners aspire to run the Big 5 and Basel is not one of them. As I always have done things differently, I was fascinated by Basel and was keen to visit after having met Ann from Basel Tourism board earlier in the year during her visit to India which was followed by a post card that was sent to me of this interesting town which has the Rhine River cutting thru the city and dividing it into Greater Basel and Little Basel.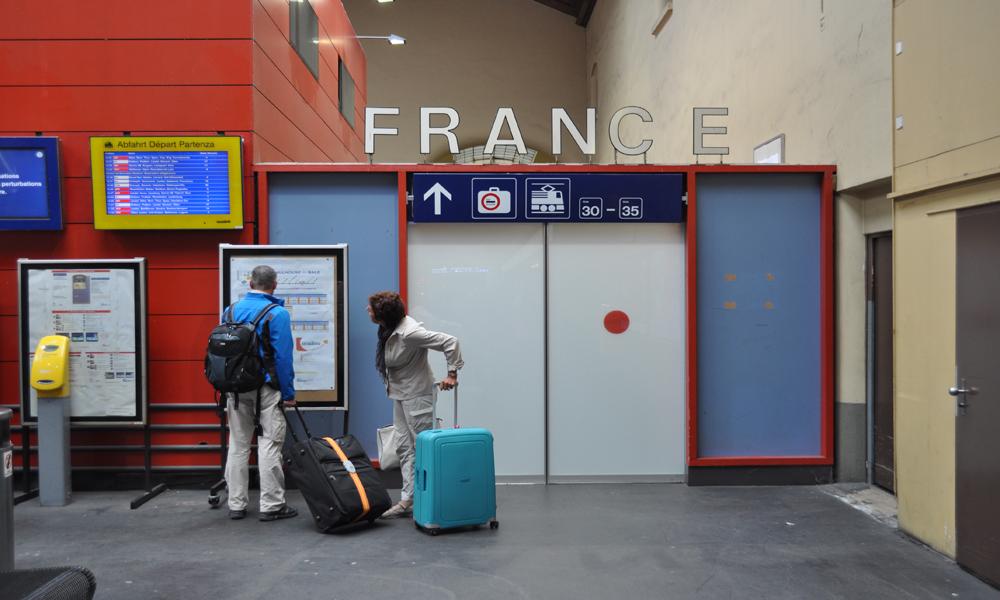 The train from Zurich to Basel is 53 minutes and Basel is a unique station as it is located in 2 countries – France and Switzerland.
Basel has a very efficient transport system with its trams and buses and if you are staying overnight in Basel you can avail of the mobility ticket which offers free use of the public transport during your entire stay. On arrival at the train station, I took tram no 3 and within less than 10 minutes and 3 stops away I was at Hotel Spalentor which is walking distance from the Old Town. The hotel derives its name from the medieval city gate, the access to which was closed due to refurbishment.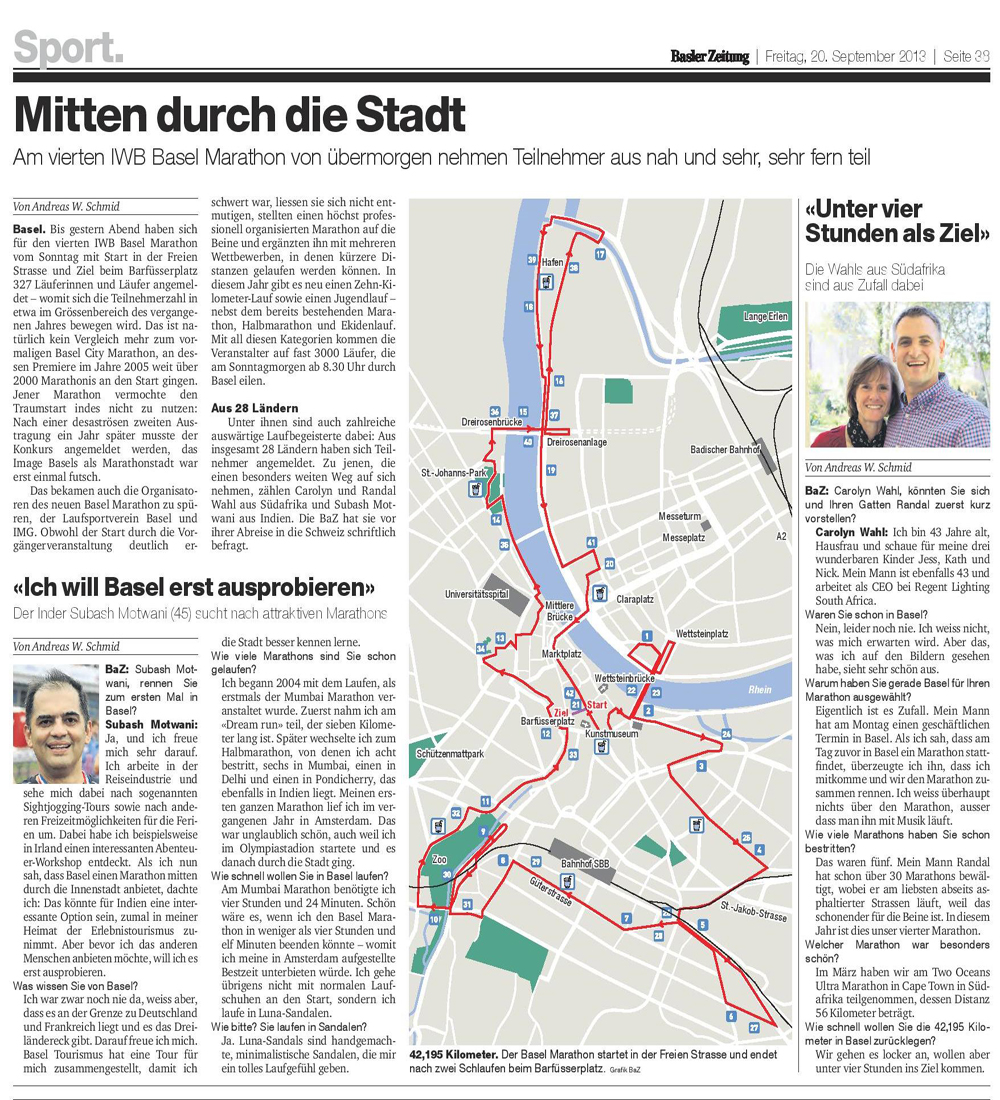 Basel is a small town , just about 37 sq kilometres , 194000 inhabitants and home to over 40 museums. As I was the only Indian national running the marathon, I was featured in the Basler Zeitung, a leading publication in the town of Basel, a day before my arrival into Basel.! I walked in the direction of the Barfuesser Platz or the Barefoot square to see where the marathon would eventually conclude 2 days later and my decision was right on choosing such a wonderful city. En route, we passed thru the Spalenberg walk of fame where each year an eminent individual from Basel is honoured by having this path paved with panels and these plates of brass had their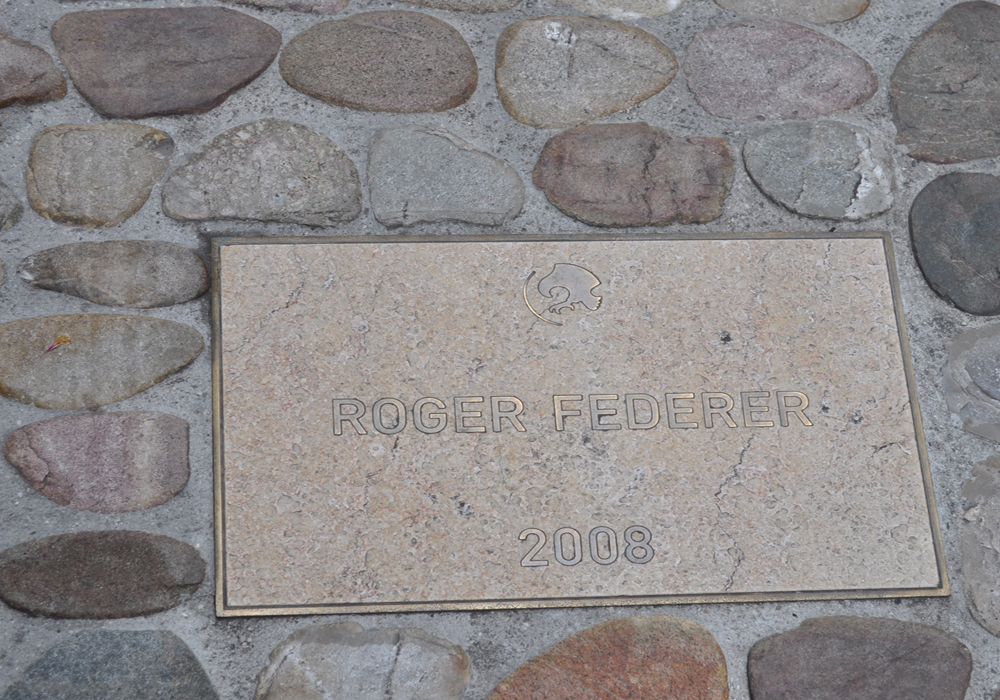 names inscribed on it along with the year when it was inscribed and one name that stood out was that of Roger Federer- Federer fans, do you know that Basel is a city worth visiting as it is the Roger Federer town and you can stay in the Grand hotel Les Trois Rois where Federer stays whilst playing a tournament in Basel. You can also as part of your walking tour and visit the place where Federer registered his civil marriage. Basel is the home town of Roger Federer.
Thereafter we headed towards the Town hall – locally known as Roothuus and this 500 year old building dominates the Marktplatz or the Market square in Basel and houses the meeting of the Cantonal Parliament as well as well as the Cantonal Government of the city of Basel.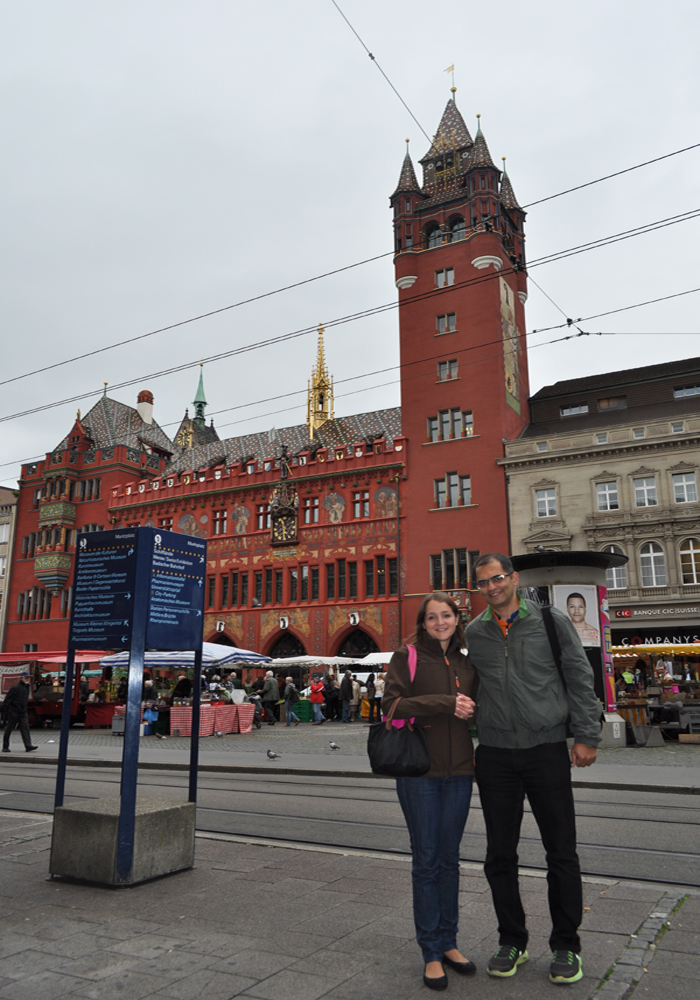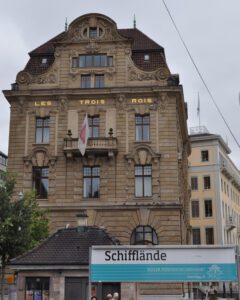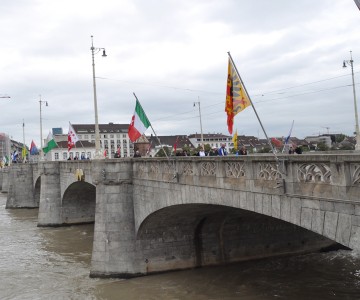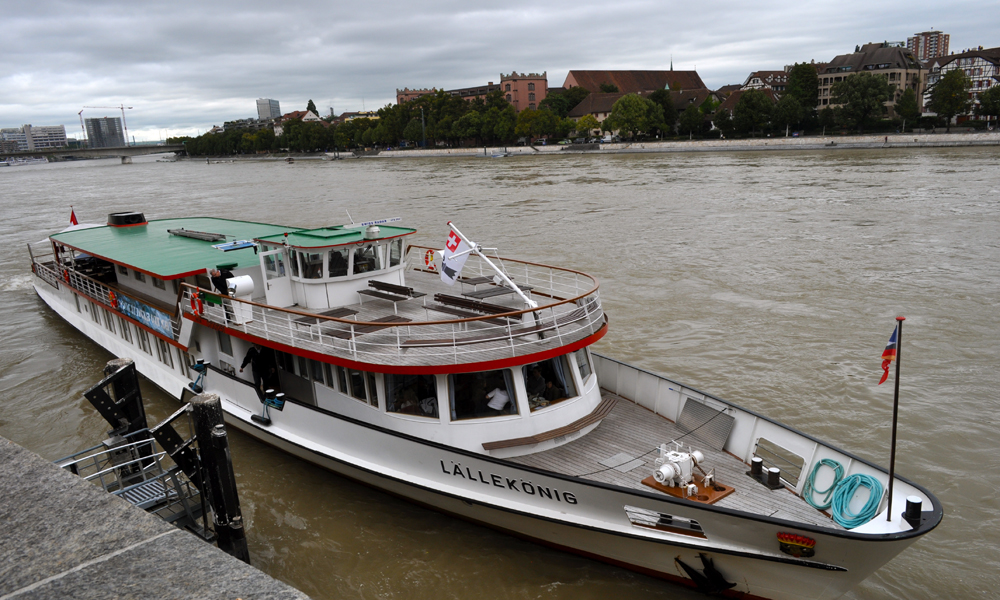 Just behind the Marktplatz, a few hundred metres away was the famous Mittlererheinbruecke which connects Great Basel to Little Basel and close by is the iconic Grand Hotel Les Trois Rois – one of the oldest city hotel in Europe and truly ultimate in luxury,dating back to 1681 ,located on the banks of the river Rhine. It is believed that Napolean held the hotel first business lunch here in 1798. After an interesting walking tour for about an hour thru the beautiful medieval old town of Basel , the cultural capital of Switzerland with world class art museums, amazing architecture and located in the corner of three countries, I was rather surprised within the first hour of my stay in Basel, as to why visitors from India skip this wonderful town whilst exploring the mountains in Switzerland. Located in the three country corner of France, Switzerland and Germany, Basel is also an easy access point to the German Black Forest as well as the largest theme park in Europe – Europa Park in Rust as well as the Alsace region of France. And to get the three country corner experience we boarded the Laellekonig – a luncheon boat cruise to enjoy some fine cuisine as well cross over from Switzerland to France and Germany along the Rhine.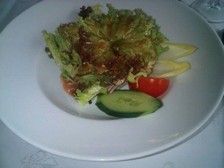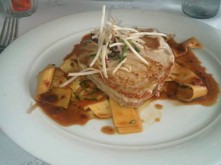 Some healthy greens as part of the starter on the luncheon cruise, most ideal a couple of days before my marathon. Fresh Tuna Fish with vegetables, Parpadelle pasta and coriander – the luncheon cruise onthe Rhine, Basel.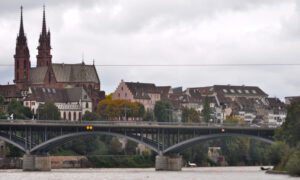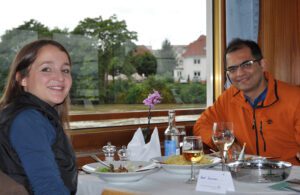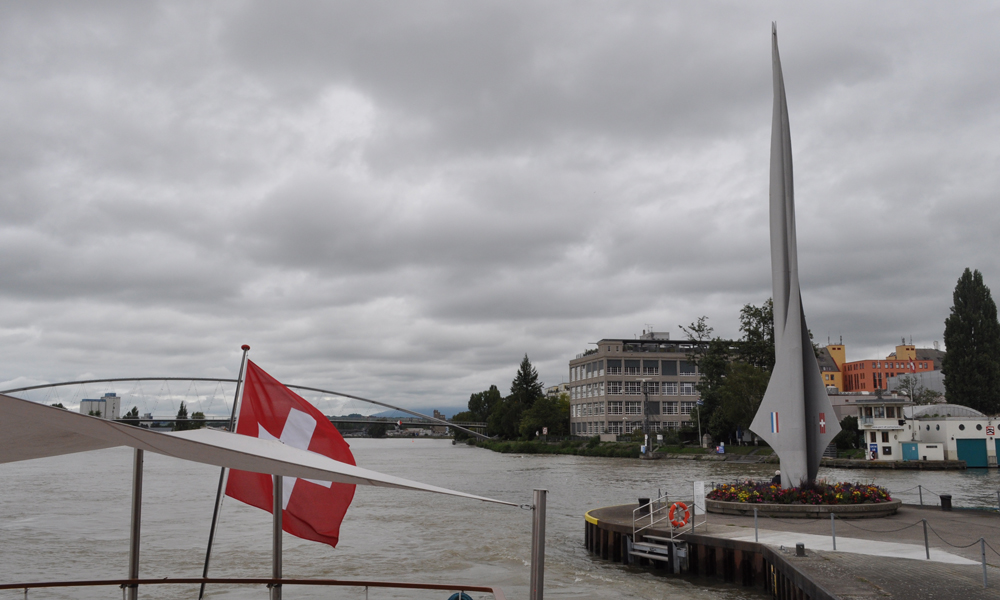 A view from our cruise boat of the three country corner – France, Germany and Switzerland.
As Ann told me, Basel is the place to be in summer or when the sun is out as you can swim downstream on the Rhine and many tourists as well as office goers during their lunch break carry a swimming bag , known as the Basel "Wickelfisch" which ensures that your clothes are dry whilst you swim and you can carry along this waterproof swimming bag as you swim downstream and after a meal, head back to work. Is in't that amazing?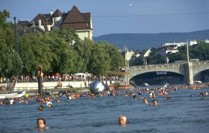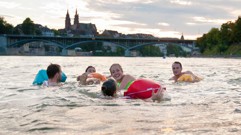 After a memorable cruise with some amazing views across the Rhine, I did a quick sight inspection of the Grand Hotel Les Trois Rois – and the lavish interiors with the exquisite wining and dining experiences left me awestruck.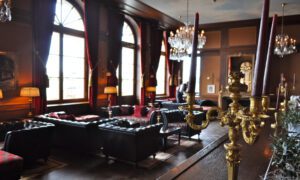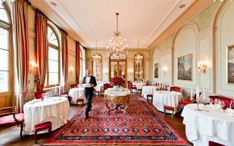 I realised that I had barely spent 4 hours in Basel and I was already thinking when should I be returning to Basel again to visit some of the amazing museums as the following day I was scheduled to do a day trip to Mulhouse, France. It was time to do our 2 hour guided walking tour of the old town which started from the tourism office which is very close to the Tinguely Museum. Basel has the largest Tinguely collection in the world.The best way to see cities in Europe is by walking and Basel offers 5 unique walks across the Old Town ranging from durations of 30 minutes to 90 minutes and each of these five walks, named after world famous citizens of Basel, show you a different facet of the city – beautiful squares, hills along the Rhine in Basel and all can be experienced with a self guided audiovisual tour – an iGuide that can be hired from 4 hours onwards to the entire day.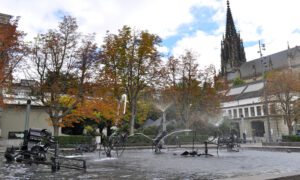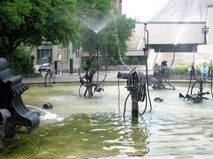 Our starting point of the tour was the Tinguely Fountain – a landmark of Basel since 1977 when Jean Tinguely placed some amusing machine sculptures in an enormous pool of water which was formerly the site of the old city theatre stage and today houses the Museum Tinguely just behind this fountain.
Next on our route was the St. Elizabeth Church, built in the 1860s, this was the first Protestant church in Basel. The church is an impressive Neo-Gothic building with a 70.5 metre tall tower.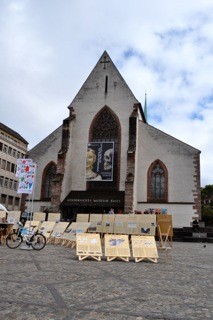 The Basel Historical Museum was the next stop and it is one of the largest and most important museums of its kind in Switzerland. Opened in 1894, the museum is divided into four sections, three of which are within the city of Basel. The fourth section, the Coach and Carriage Museum lies slightly outside Basel, in the neighbouring town of Muenchenstein. The main part of the museum is located in the Barfüsserkirche (or 'Barefeet Church') in the centre of the city of Basel.
One of the main landmarks of the city is the Basel Muenster or the Basel Cathedral – red stone architecture with coloured roof tiles and two towers with a cross-shaped intersection on the roof, it is listed as a heritage site. Built during 1000-1500, this church was financed by Henry II and all the five towers were destroyed by an earthquake in 1356 and only two of them were rebuilt – the St.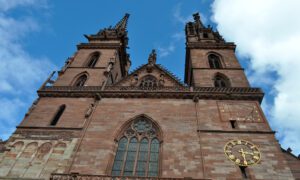 George Tower on the left and the St Martin's Tower on the right. The pulpit within the church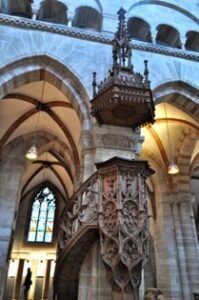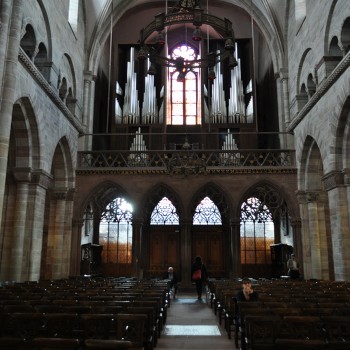 premises is made of a single piece of redstone and the organ has 1601 organ pipes.
The next stop was at Muenster Hill from where you get the most spectacular view of Little Basel across the Rhine.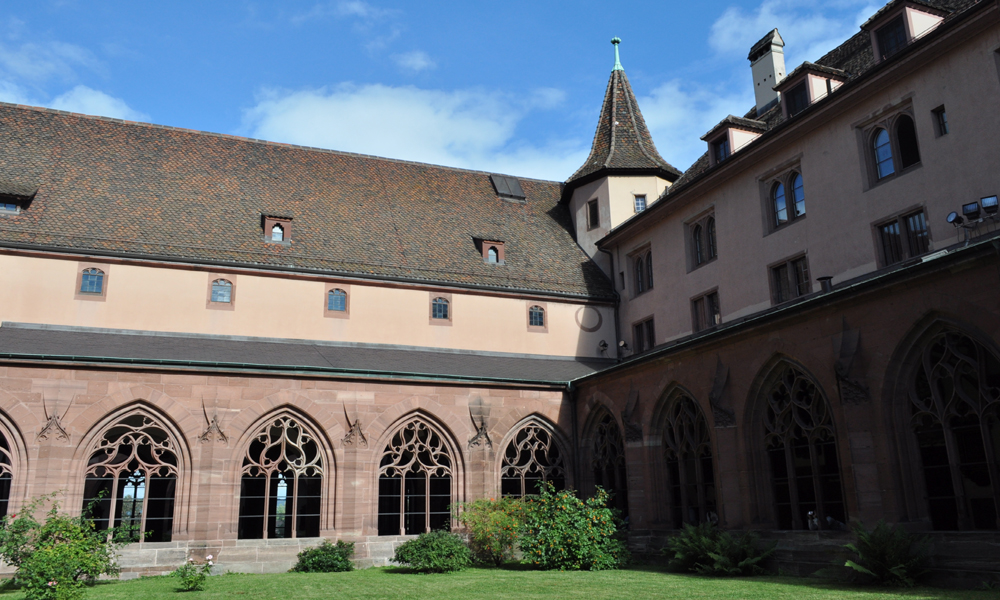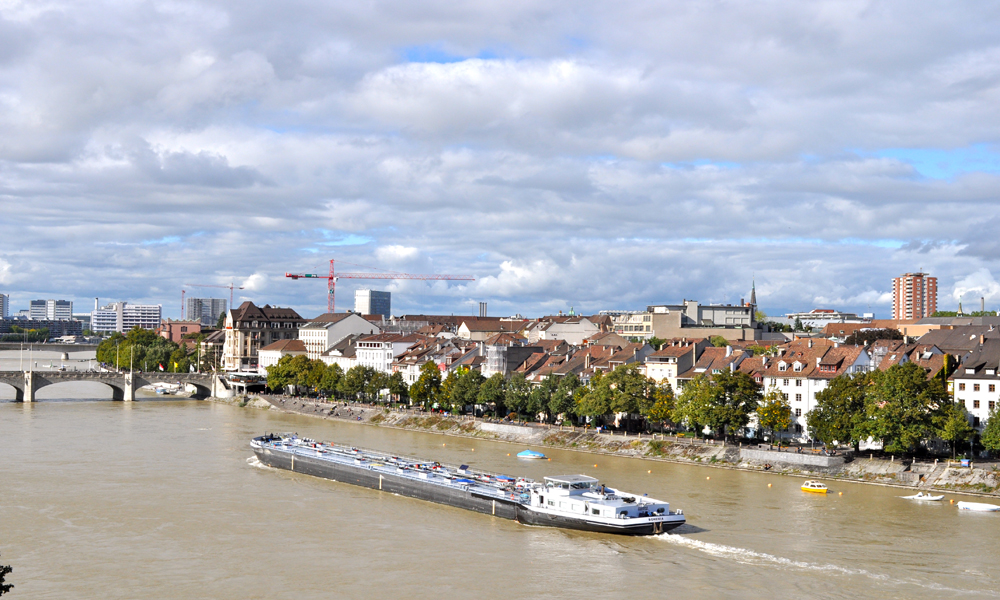 Amongst the more modern buildings are the Novartis headquarters – a true Mecca for modern architecture, as every building within the Novartis campus was designed by a different architect- from Frank O Gehry , Diener & Diener , Sanaa, you will find amazing works by some world renowned architects. The campus was built by Vittorio Magnago Lampugnani – the famous Italian Architect.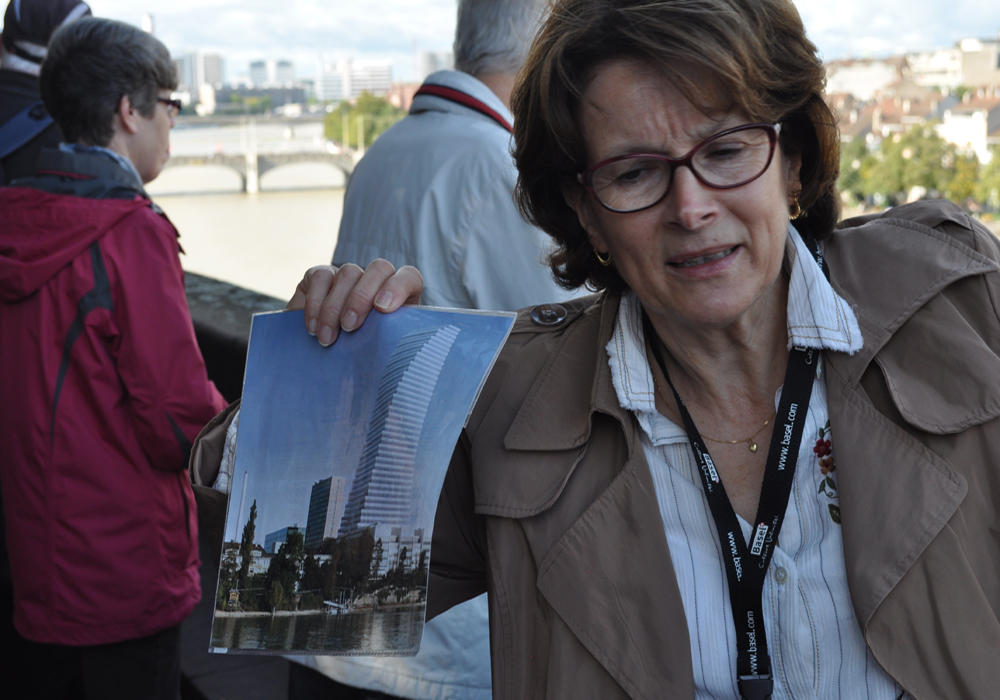 From the hill we could see the bridges that connect Great Basel and little Basel and the ferries that take people across the 2 sides of this beautiful city.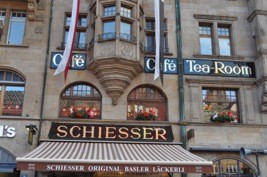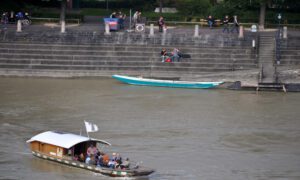 En route to the Martkplatz and the Town Hall where the tour would eventually conclude, we also crossed the University of Basel – the oldest University in Switzerland which was founded in 1460.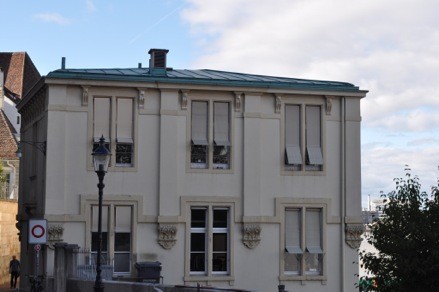 A visit to Basel is incomplete if you do not try the local Basel produce – Laeckerli and our tour ended on a sweet note with a visit to Schiesser – a shop known to serve the original Basler Laeckerli. Lecker – stands for delicious in German and those who have a sweet tooth will indeed enjoy this traditional hard spice biscuit that originated in Basel over 700 year ago. The Laeckerli is made of honey, hazelnuts, candied peel, Kirsch and the flat baked dough is topped with a sugar glaze and served as rectangular pieces.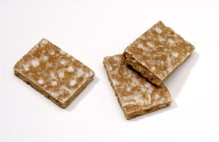 It was almost 1700 hrs and Sabrina from Basel Tourism accompanied me on a cycling trip to explore Little Basel including the roof top bar – Bar Rouge. To my misfortune I was off alcohol though I enjoyed the ambience and the spectacular view of Basel from the roof top bar which has a great ambience and wide variety of drinks to choose from. One of the local produce of Switzerland for non-alcoholic is Rivella – created by Robert Barth in 1952 and is produced from milk whey and includes lactic acid and minerals and comes in 4 varieties.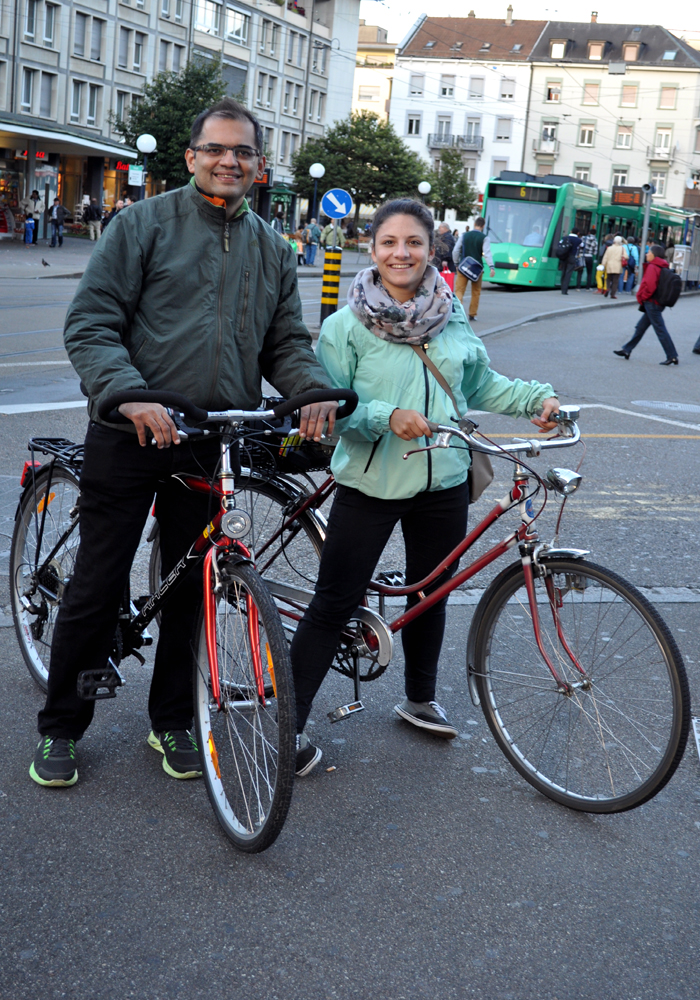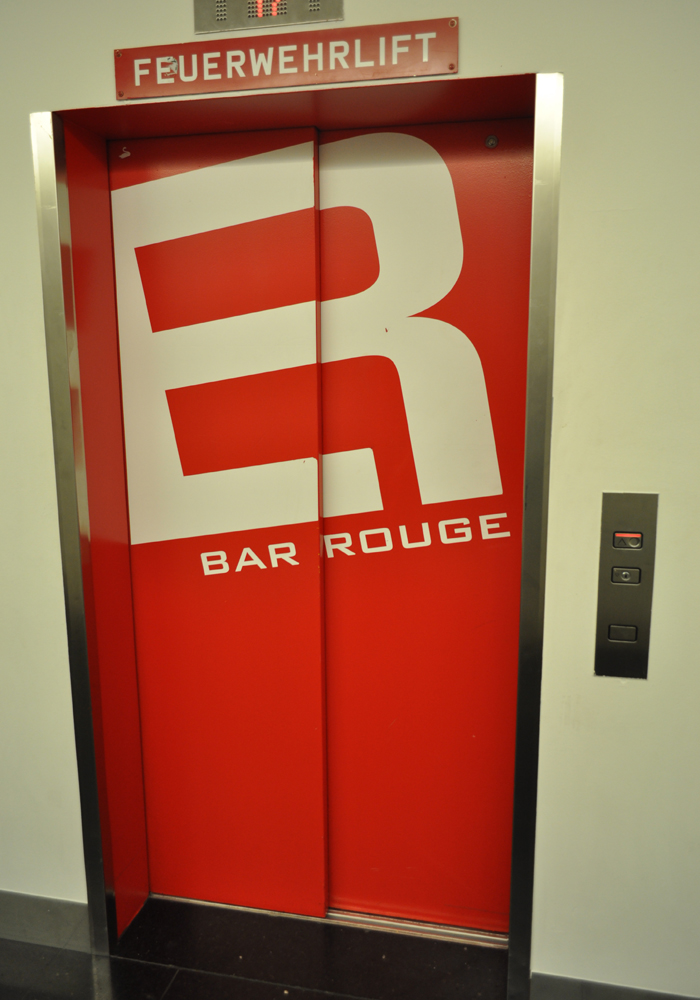 Bar Rouge is one of the many trendy bars amongst a wide variety of bars and restaurants that Basel has to offer. Located in the highest building in Basel, the Exhibition Tower at a height of 105 metres, Bar Rouge is a young and stylish "place to be" and offers a splendid view of the city, the Rhine river and the surrounding areas as well on a clear day.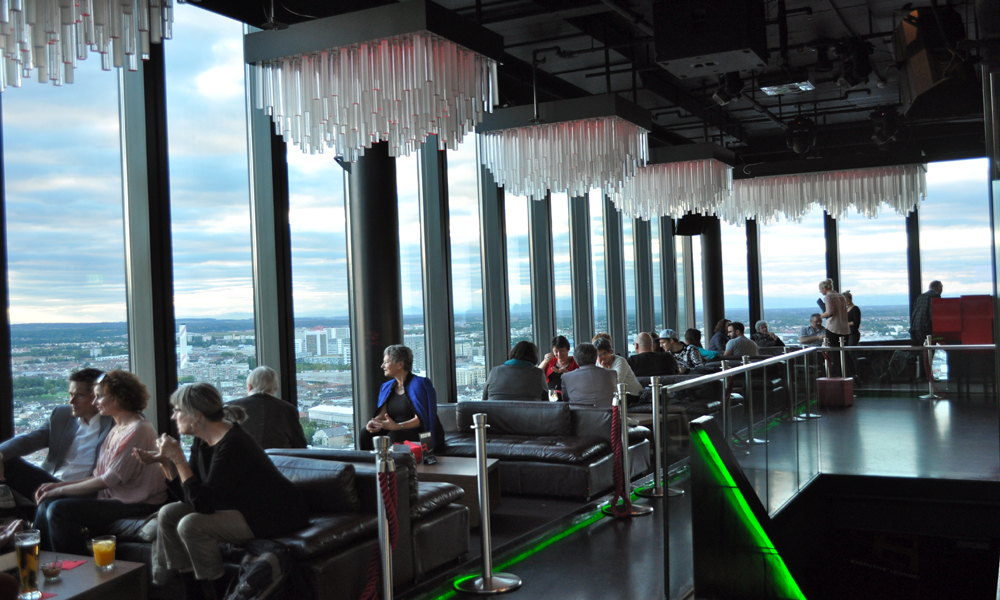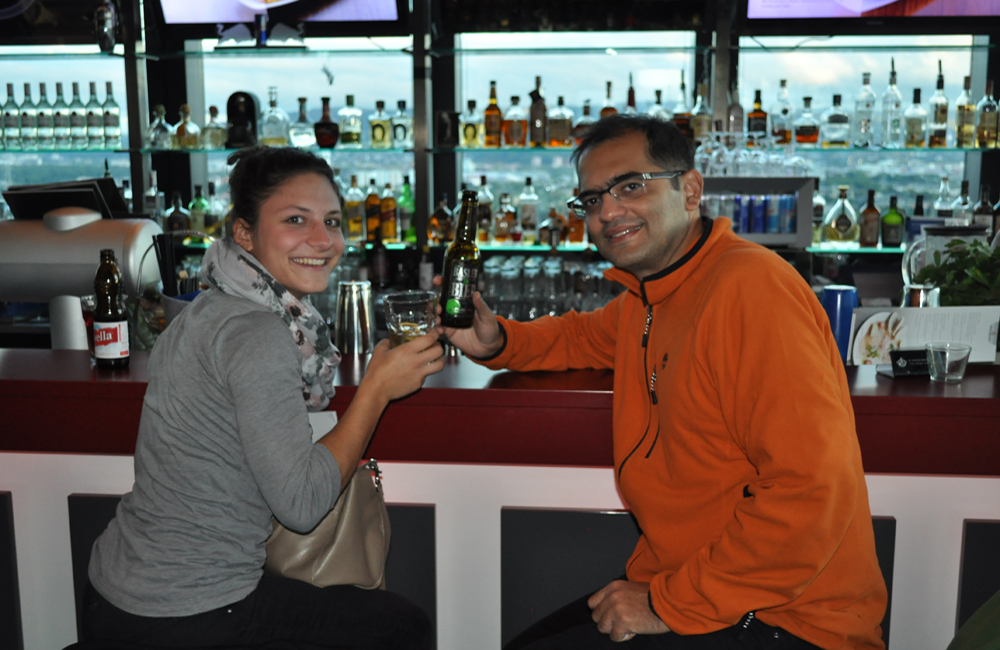 I ended my long and interesting day in Basel with some fine cuisine once again at a restaurant which is also well known for Ueli Beer, flavour packed beers which is being brewed for over 30 years and is one of the highly rated restaurants in the Old Town – Brauerei Fischerstube.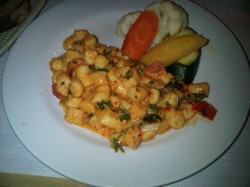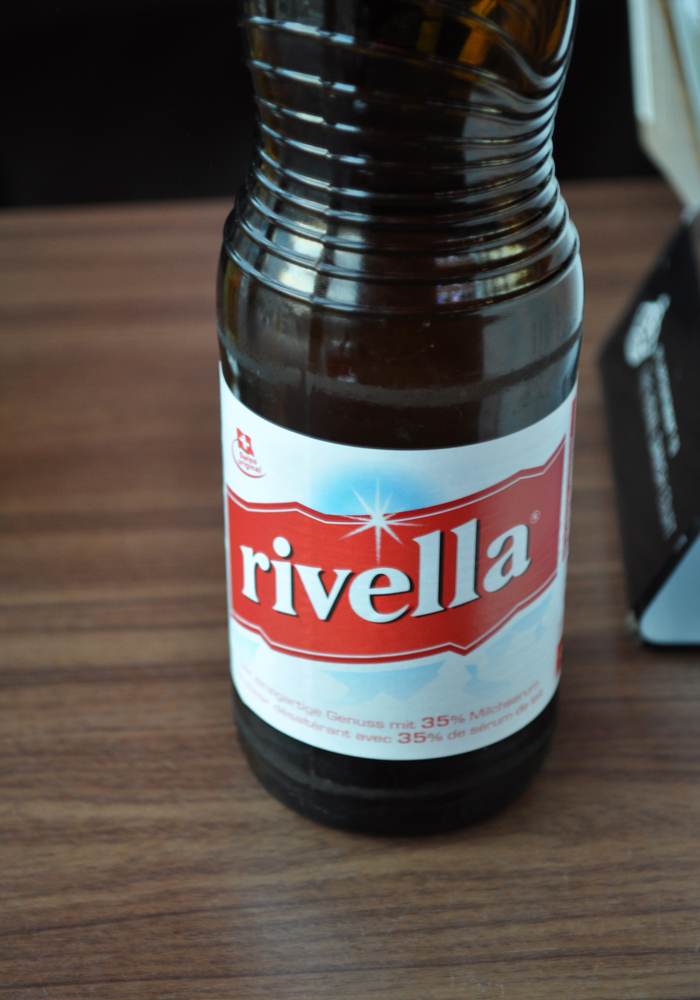 And here's some great news for vegetarians – Basel, besides having a few Indian restaurants also offers a wide variety of international vegetarian cuisine and one of the highly recommended dishes at the Brauerei Fischerstube is the Gnocchi in Parmesan with Sambal-cream sauce.
I managed to cover a lot during the 10 hours that I spent on a Friday in Basel and I was looking forward to crossing the border from Bâle station – well Bâle in French stands for Basel and into Mulhouse , a 40 minutes train ride from Bale or Basel into France. Interestingly the city in 3 countries is served by an airport that has access to 3 countries as well – Basel-Mulhouse-Freiburg airport which is equally and easily accessible to Switzerland, France and Germany.
The proximity of 3 countries is indeed one of the key factors for those who plan to do a multicountry European travel and therefore a city like Basel is ideal to have as your hub and access regions across 3 countries and at the same time even explore the mountains in Switzerland.
I enjoyed my weekend supper at Zum Braunen Mutz – a high carb meal comprising of Papardelle with pumpkin and ricotta at the Barfuesser Platz or Barefoot square where I would finish of my marathon. This boulevard cafe known for its Swiss specialties serves sumptuous cuisine and should be on your list of restaurants to dine in whilst in Basel.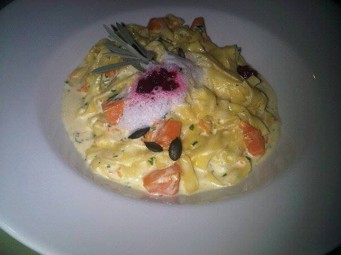 It was marathon Sunday and the starting point was at Freiestrasse which is incidentally the main shopping street of Basel and we were scheduled to start at 0830 hrs and cover two loops of 21.1 kms each covering Greater and Little Basel and crossing the bridges. An ideal way to see parts of the city that I might have missed out on during my 10 hours in Basel. The temperature was a perfect 9 degrees, not much of humidity and although I got up that morning with a sore back due to my hectic travels, I was all excited to participate in my third marathon in a span of 12 months. It was a dream trip thus far covering 3 cities in 3 days. There were only 300 participants for the full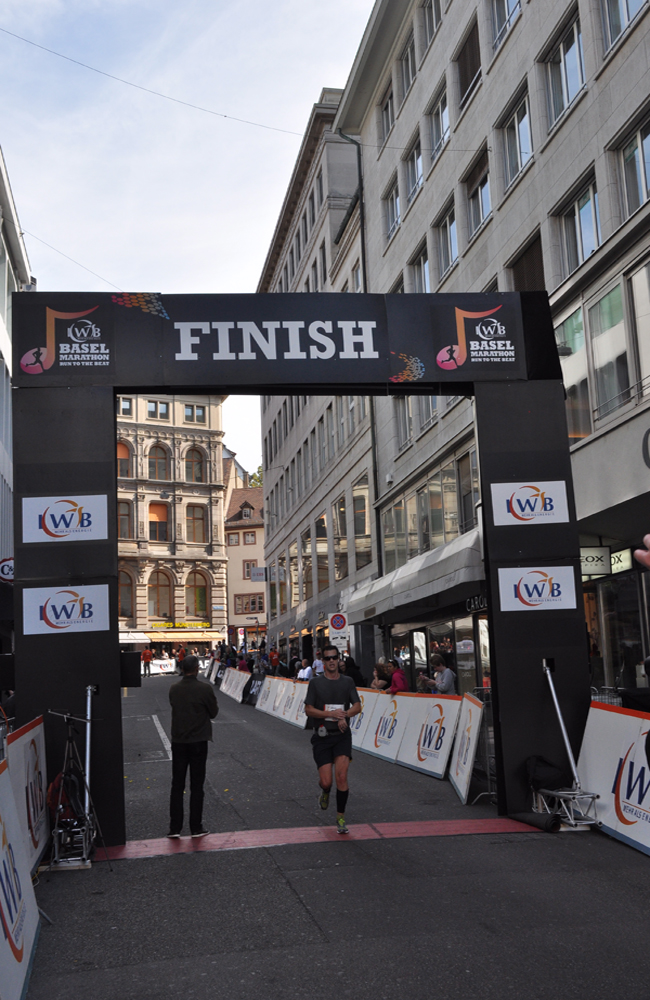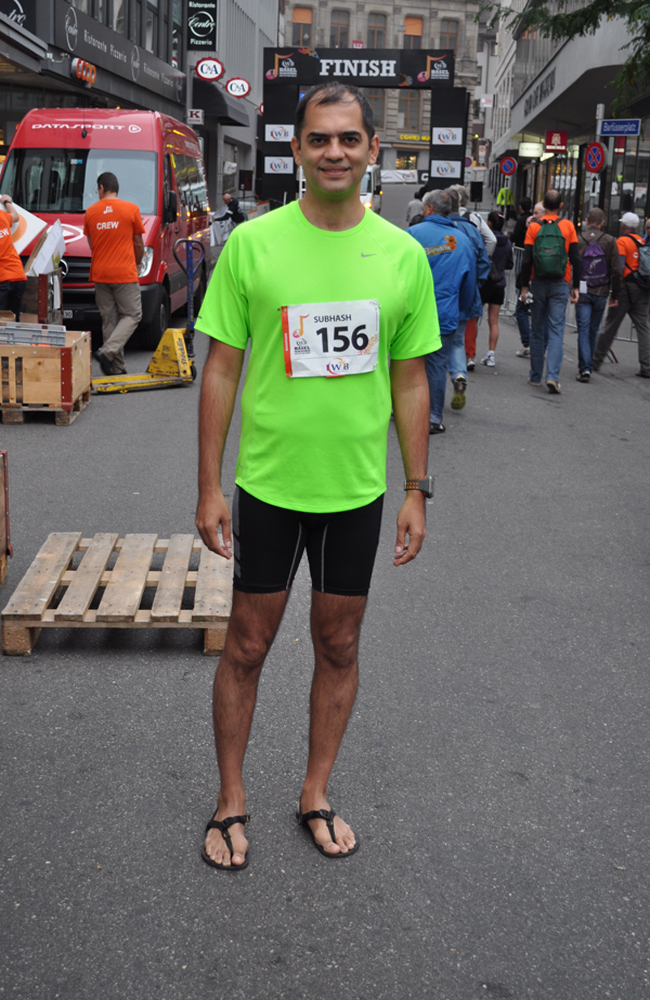 marathon. I took the tram from my hotel and all set to give my best after putting in arduous training for over 12 weeks. I decided to keep up with the pacer for 4 hours and I did manage to keep up with the pacers until 36 kilometres after which I cramped and the fine weather, the encouragement and cheer I received en route enabled me to record my personal best of 4 hrs 42 seconds to conclude a memorable visit of mine to Basel – at the crossroads of 3 countries and one of the most beautiful cities of Switzerland.Several runners were amused to see me running in sandals, as it is uncommon in Europe to run in sandals. For me the luna sandals has been my marathon gear for all my 3 marathons thus far. A few of them were curious and I did tell them that this was closest to barefoot running, unlike branded shoes and as I was finishing my run at Barfuesser Platz or barefoot square, it was the ideal running gear to have to complete my marathon in Basel !!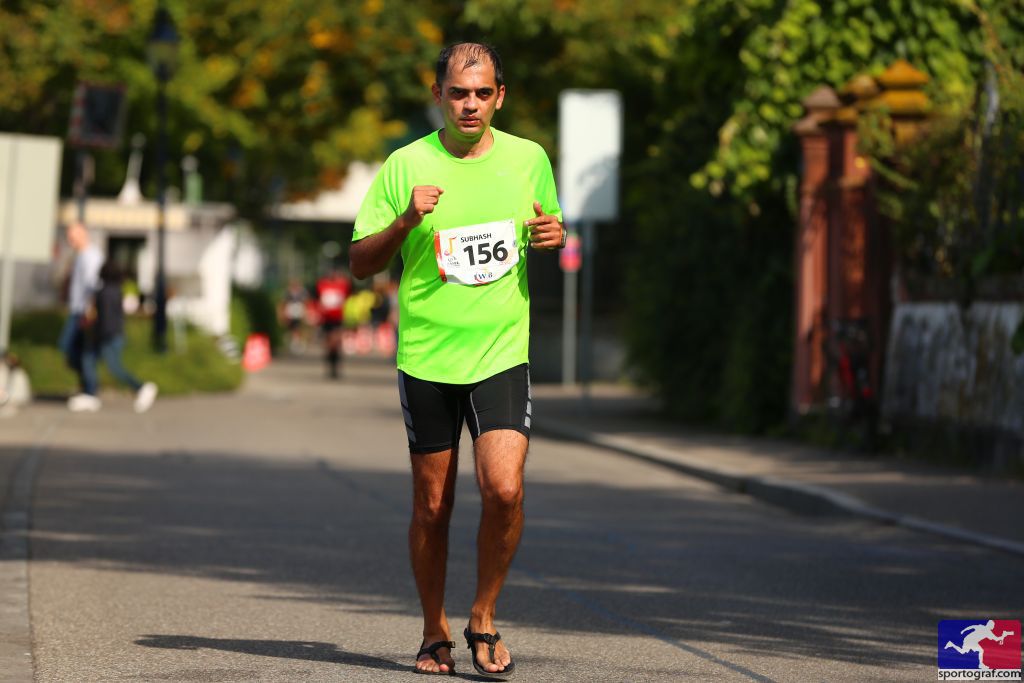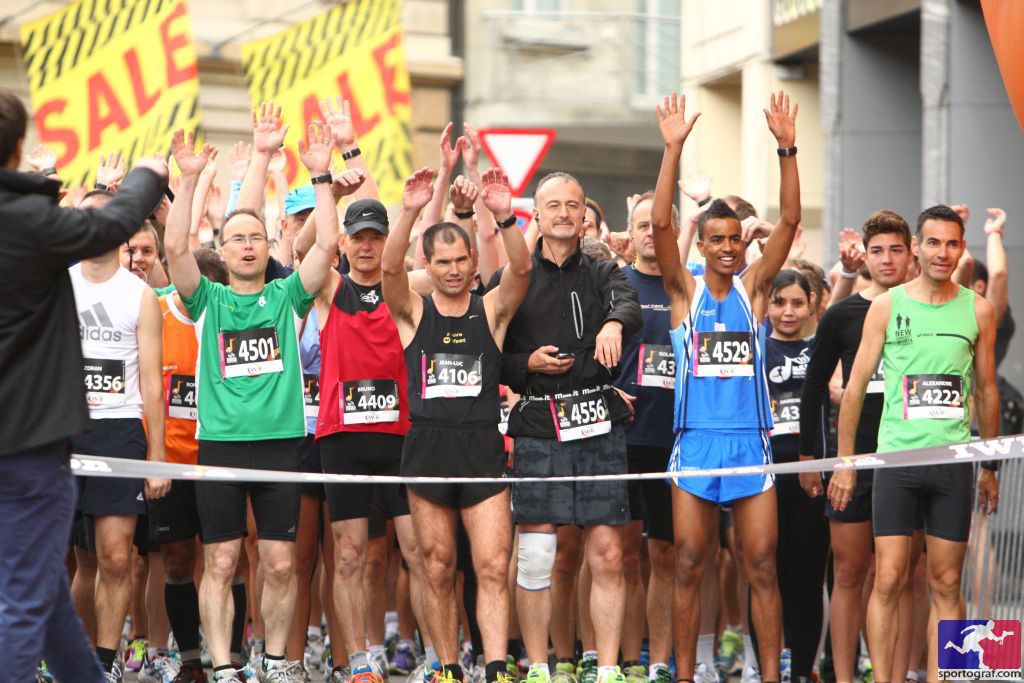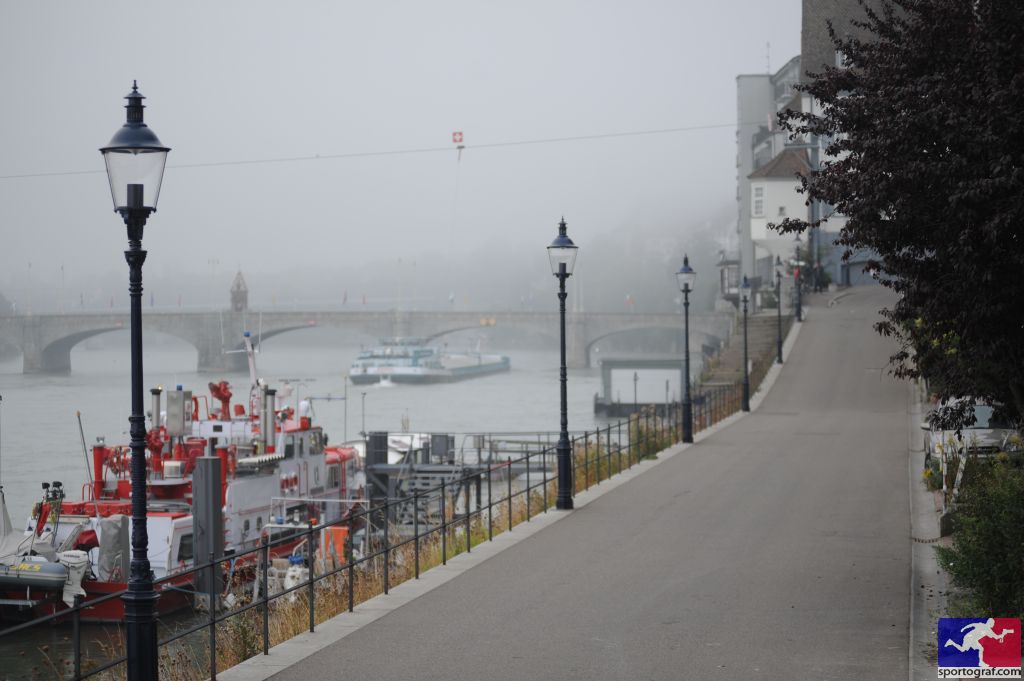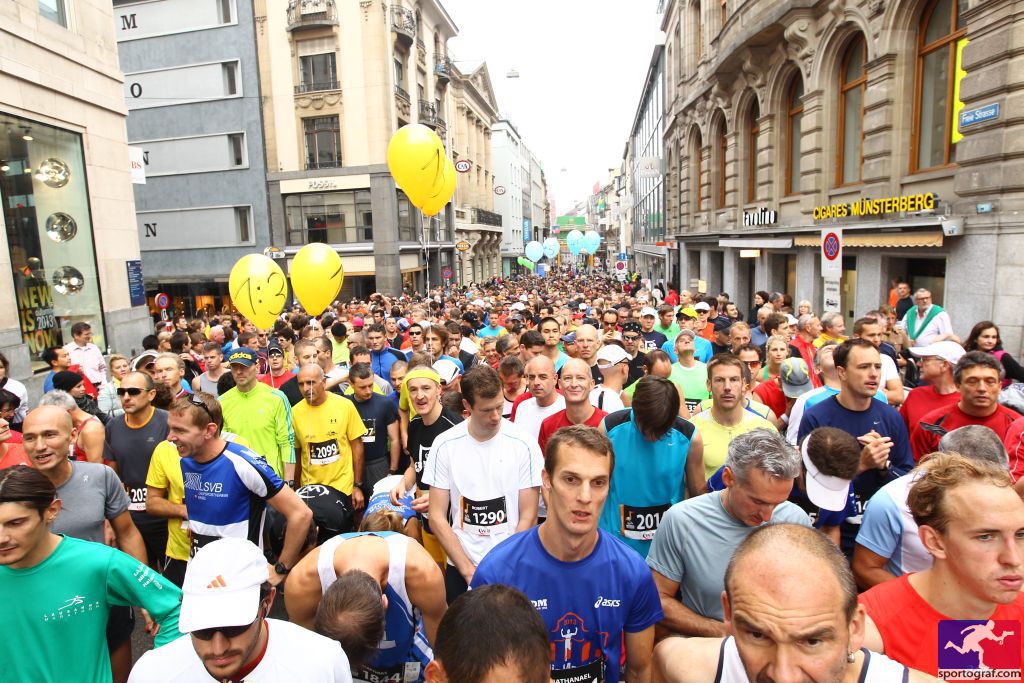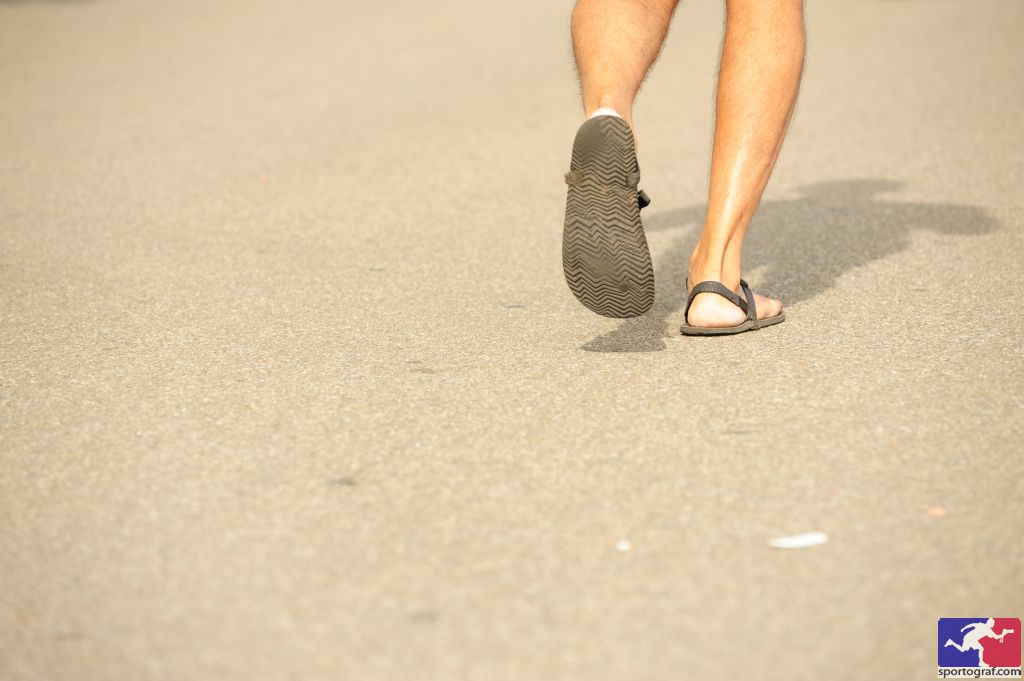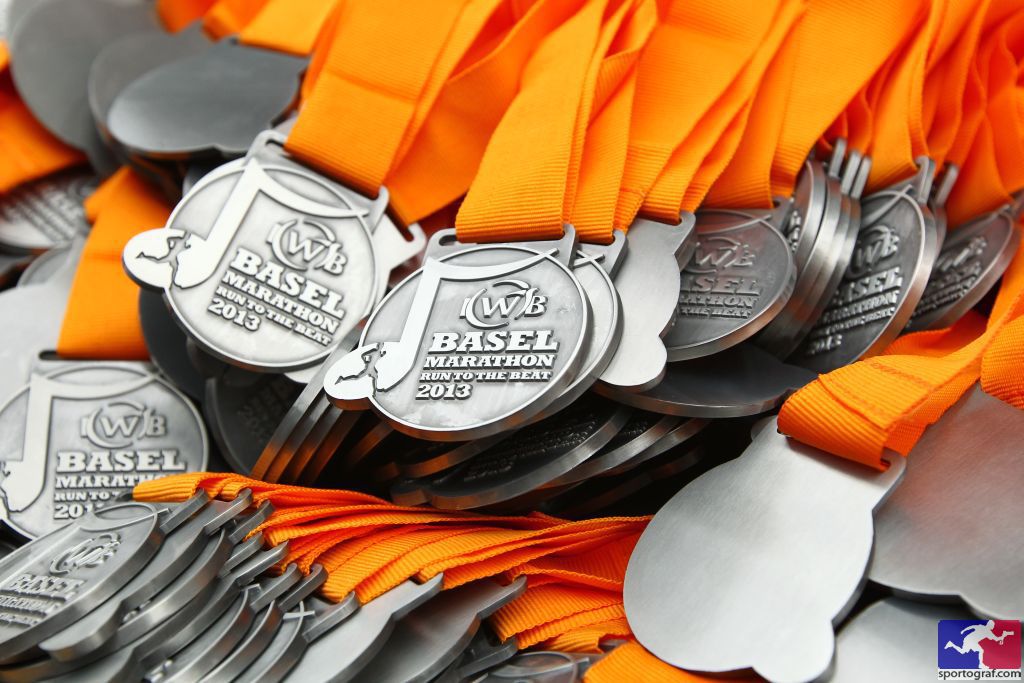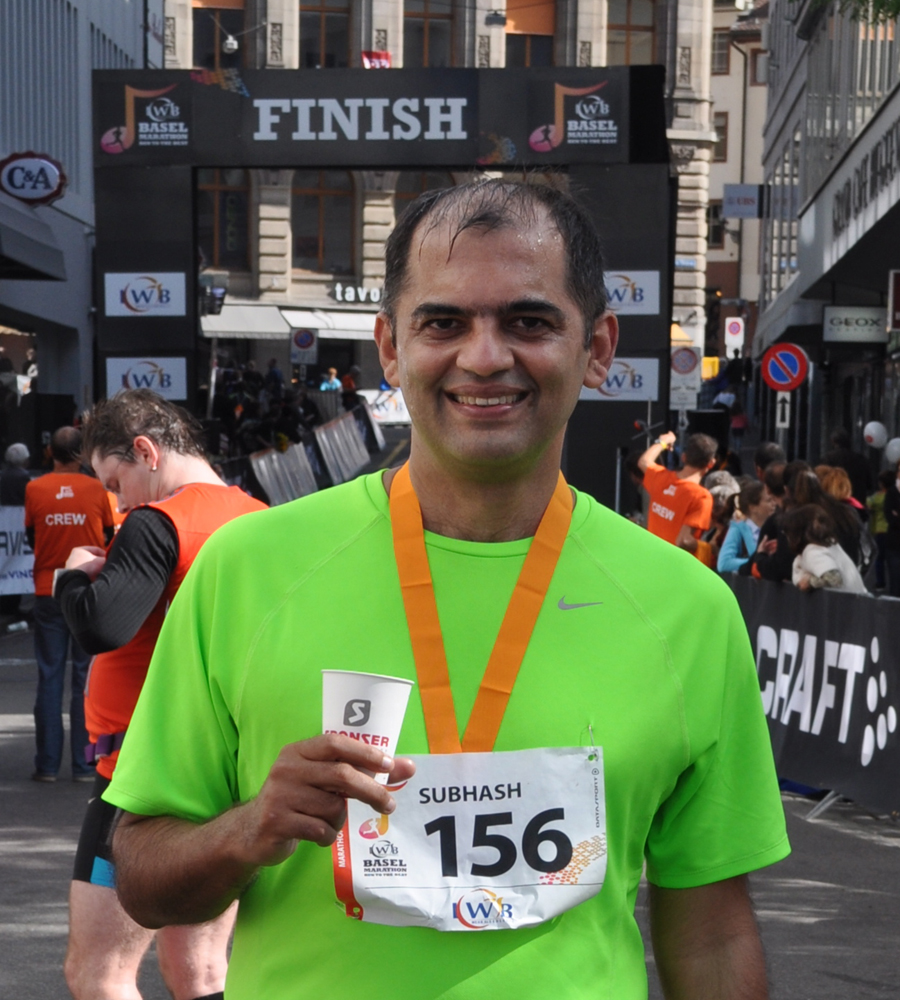 It was time to leave Basel not before having some mussels in tomato basil sauce at Lowenzorn – a traditional Swiss restaurant.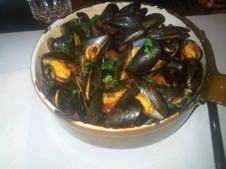 I missed out on visiting some of the amazing museums as well as the Basel Zoo – the second most visited attraction in Switzerland after the Rhine Falls , thus having something to come back to once again to explore this wonderful region. During the wee hours of the Monday morning I left for
Geneva
to test drive a 415 HP Tesla Model S, an Electric Super Car and thereafter to Chamonix and the French Alps.