Sri Lanka – more than a teardrop
Reading Time:
7
minutes
Known as the teardrop of India, Sri Lanka which is located in the Southern Part of India is one of the crowning jewels of the Indian Ocean. Separated from the Indian sub-continent by the Gulf of Mannar and Palk Strait, Sri Jayawardenepura Kotte is the administrative capital of Sri Lanka. Colombo continue to remain the commercial capital of the island country that is all of 65610 square kilometres that includes 2905 square kilometres of water an a coastline of 1340 kilometres.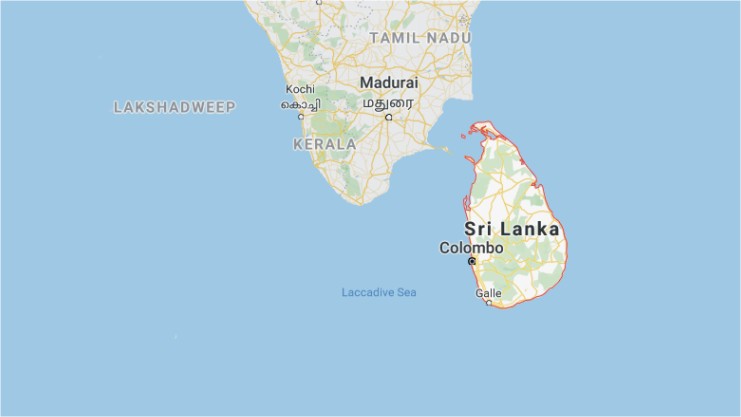 Sri Lanka with a population of about 21 million – 75% of which are Sinhalese, 13% are Sri Lankan Tamils, followed by Moors, Indian Tamils and others. Sinhala language of Indo-Aryan origin is its official language spoken by majority. Tamil and English are also widely spoken by all communities here.
The northern parts and the coastal areas are flat while there are hills and mountains in the central and southern central areas of this island. The average temperature in the coastal areas ranges from 25-30o C while in the highlands the average temperature ranges between 15-20o C. The South West monsoon brings rain in the west and south west part of the island from May to September while the North East Monsoon brings rain to the north east and eastern parts of the island from December to February. Therefore the best time to visit Sri Lanka is from October to February when there are no rains on the west coast and south west part of the country which has major must see places to explore.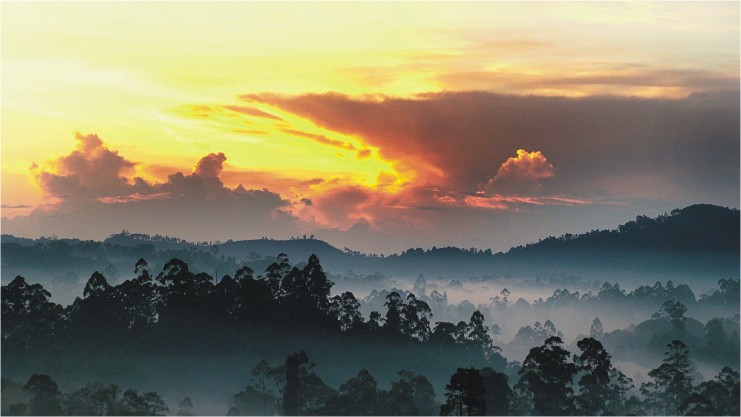 The area covering several cities between Anuradhapura to the north, Polonnaruwa to the east and Kandy to the south that includes most out of the 8 UNESCO sites in Sri Lanka is known as the Cultural Triangle of Sri Lanka. The must visit places in the cultural triangle are:
Dambulla Cave Temple (UNESCO)
Dambulla Cave temple is situated about 130 kilometres or a 3 hours drive from the Bandaranaike International Airport, Colombo. You visit this place enroute when travelling to Sigiriya. It is a cave complex of 5 caves dating back to first century BC which has large number of Buddha statues and ceilings covered with Buddhist mural paintings. It is an important Buddhist monastery and Buddhists from Sri Lanka visit this temple to pray and worship. From here you can drive around 20 kilometres to reach Sigiriya.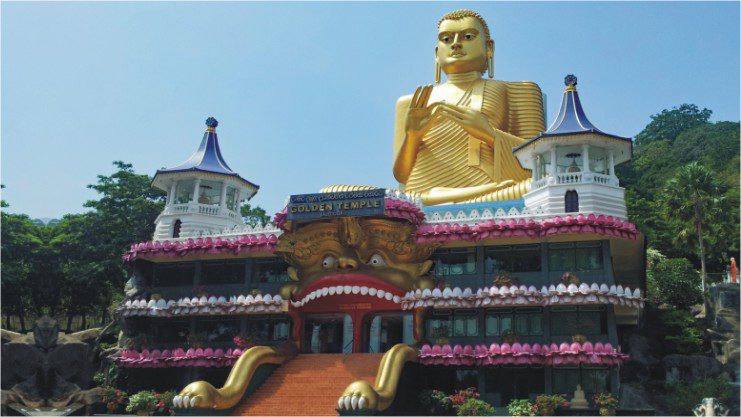 Sigiriya Rock Fortress (UNESCO)
Sigiriya is a fantastic place to stay for a minimum of two nights and explore places like the Polonnaruwa, Minneriya National Park and Anuradhapura.
Sigiriya Rock is an ancient rock fortress at a height of about 370 metres/1215 feet above the sea level. The rock fortress was built by King Kashyapa in the 5th Century and it may take upto 3 hours to climb up the rock and back down. There are around 1200 steps to the top of the rock. During your ascent you will come across various Sigiriya paintings and graffiti. Once you reach the top you will see the ruins of the fortress and be rewarded with panoramic views of the surrounding hills & jungles and a sense of accomplishment of climbing the rock.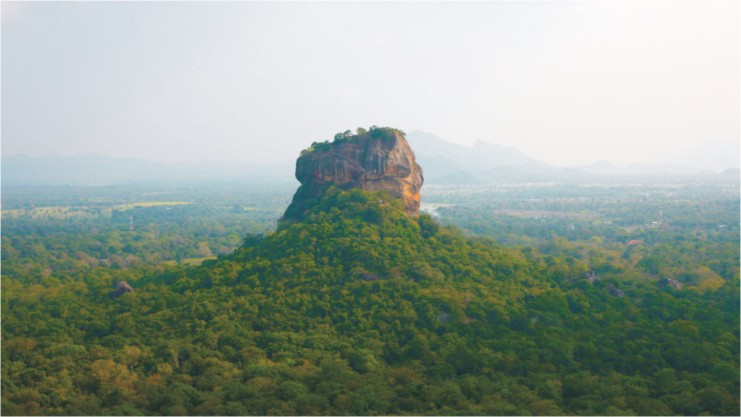 Ancient city of Polonnaruwa (UNESCO)
Polonnaruwa is an ancient capital city of the 11th and 13th centuries AD, situated about 1.5 h drive (~60 kilometres) from Sigiriya. Here you visit Parakrama Samudra, a huge man made reservoir and Gal Viharaya or Rock Temple to see huge statues of Buddha in seating, standing and reclining positions. You could also explore the city on a bike with a guide, exploring the ancient ruins, palaces, religious shrines and royal baths.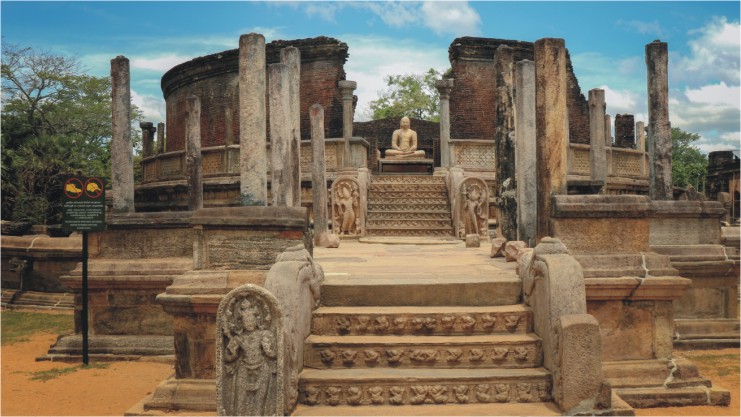 Minneriya National Park
A game drive in the park is a must do when in Sri Lanka. The park is situated about half an hour drive (20 kilometres) from Sigiriya. It is the best place in Sri Lanka to see the Sri Lankan Elephants along with other mammals, birds, reptiles, Purple Faced Langur and Toque macaque. The park is famous for Elephant Gathering in the months between June and September when you may witness about 50 to 300 wild elephants making their way to the nearby reservoir.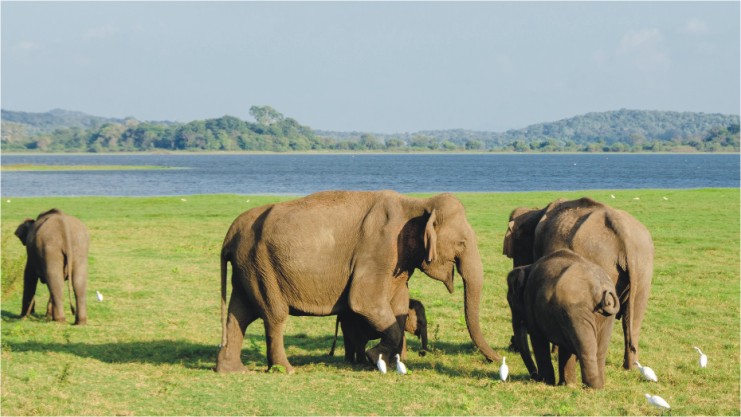 Anuradhapura (UNESCO)
Anuradhapura, an ancient capital city founded in the 5th century BC is a pilgrimage destination for Buddhists around the world. It is 80 kilometres or 90 minutes drive north of Sigiriya. The city is famous for its ancient, well preserved ruins of Sinhala civilization. Visit the two white dome-shaped stupas of Ruwanwelisaya and Jethawanaramaya, Samadhi Buddha statue – Buddha statue in a meditative pose and the Sacred Maha Bodhi Tree which bears a branch brought over from India under which Lord Buddha attained enlightenment. You also see here the fascinating ruins of palaces, monasteries and monuments.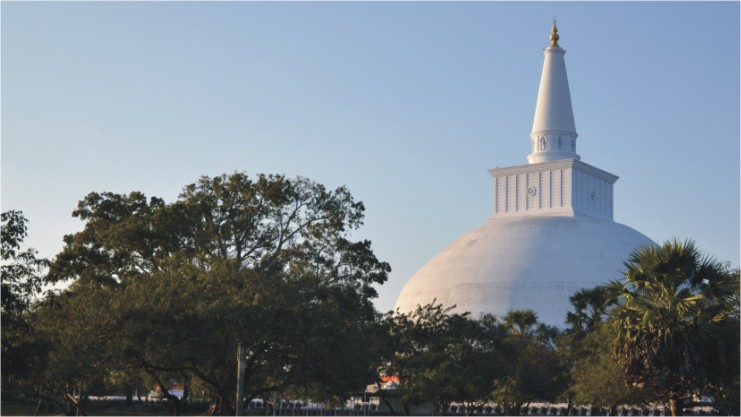 Kandy (UNESCO)
Kandy, the crown city of Sri Lanka is a city surrounded by hills and has rich culture. Sri Lanka's last king ruled here. The temple of Sacred Tooth Relic is an iconic place located in the royal palace complex where the relic of the tooth of Buddha is kept. You should also visit the Peradeniya Royal Botanic Gardens known for its orchid collections. In the evening you may enjoy cultural dances at various places in Kandy.
Knuckles Mountain Range (UNESCO)
Another place to visit when in Kandy is the Knuckles mountain range situated at a distance of about 40 kilometres from Kandy. Usually you start early in the morning, en route visit the village and rice fields, do trekking in the mountain ranges, and return back in the evening. The mountains are named for its peaks which appear as knuckles on a closed fist when viewed from a certain point.
Nuwara Eliya
Apart from the Golden Triangle, travellers also visit Nuwara Eliya, a city in the hills of central Sri Lanka known for its Tea Plantations. It is also known as the Little England of Sri Lanka because it was established by the British in the 1840s as a base for the colonialists and still retains some of the British quirks, like the famous red post box. Famous Ceylon tea is produced from the tea plantations here.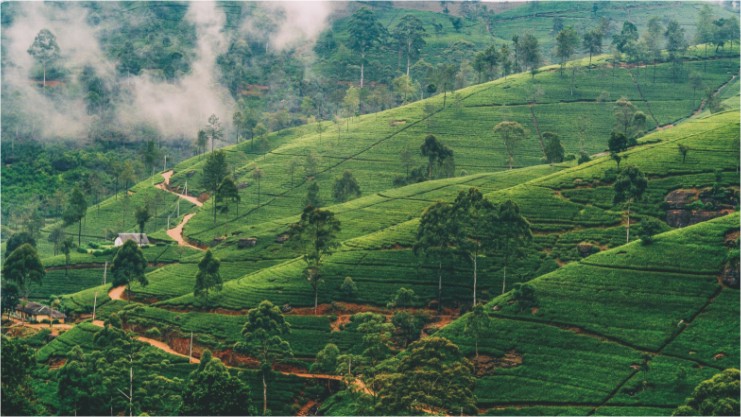 Places to visit here are the Hakgala Botanical Garden (Ashok Vatika), Hanuman temple and Seeta Amman Temple (places where Hanuman and Seeta are believed to have stayed here in the ancient Indian epic Ramayana.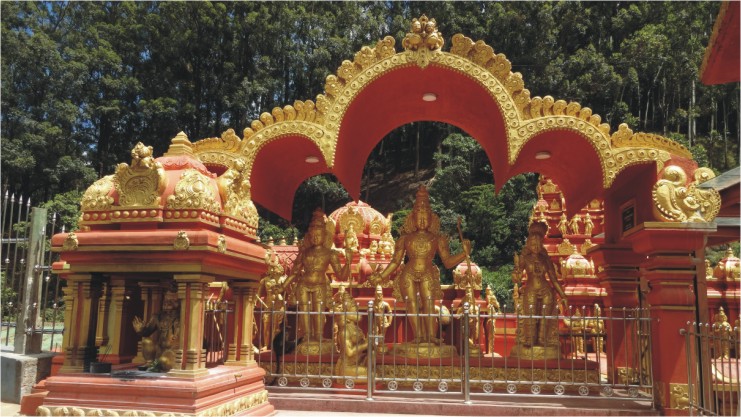 Another place that could be of interest to adventure lovers is the Horton Plains National Park situated 30 kilometres south of Nuwara Eliya. One should start early in the morning before sunrise and reach this place to see the World's End – a beautiful view of the surroundings from a 4000 feet cliff.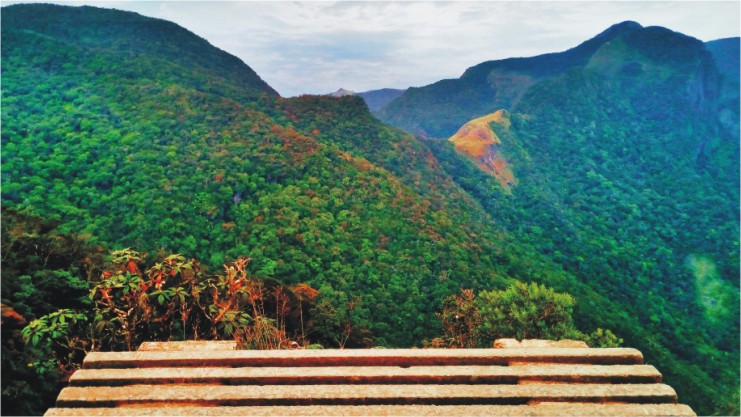 Travellers who love adventure and trekking like going on night trekking tour to Adams Peak to see the beautiful sunrise.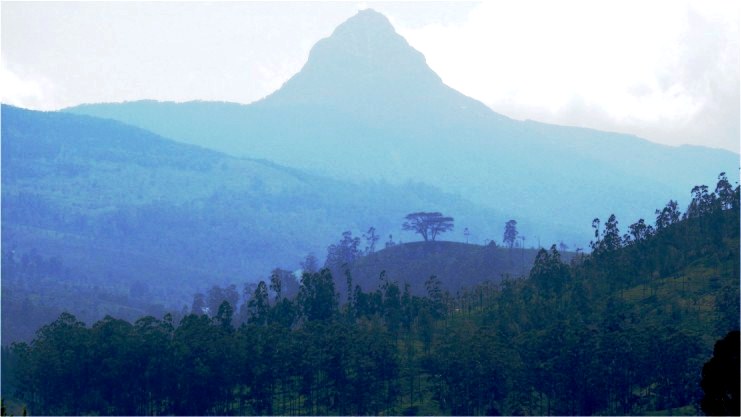 One of the options is to take a scenic train journey through the tea plantations and beautiful landscapes from Nuwara Eliya to Ella – for some it is an experience especially if you want to travel slow and easy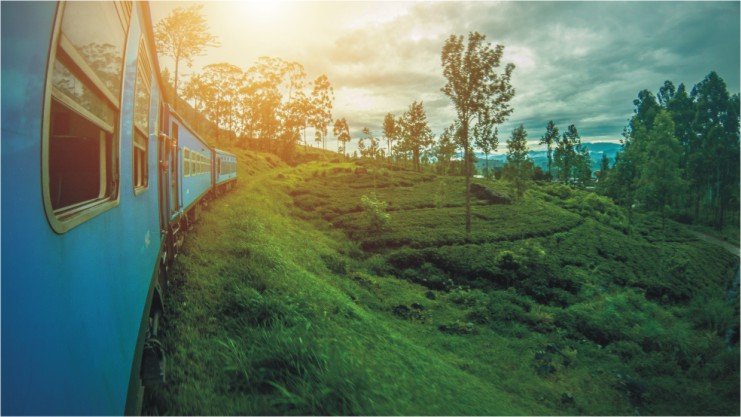 Ella
Ella is a mountain town in the Central part of Sri Lanka well known for its scenic train ride from Kandy. Here you can stay in a jungle resort and enjoy adventure activities like aerial rope, monkey rope, slithering rope. Sightseeing includes visit to little Adam's peak, Ravana Cave & waterfalls and walk on the Nine Arch Bridge.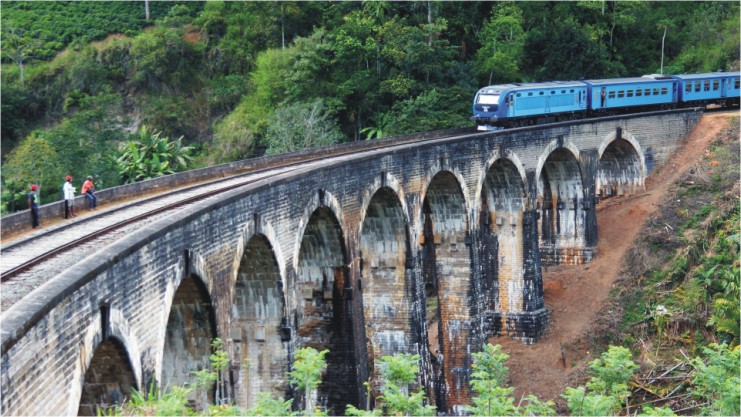 Yala National Park
From Ella, Yala National Park is about 126 kilometres or over a 3 hour road trip. Yala is known for its Leopard sightings but is highly commercialized. Other animal species found in the park are the elephants, spotted deer, mongoose, wild boar, wild buffalo and more than 130 bird species.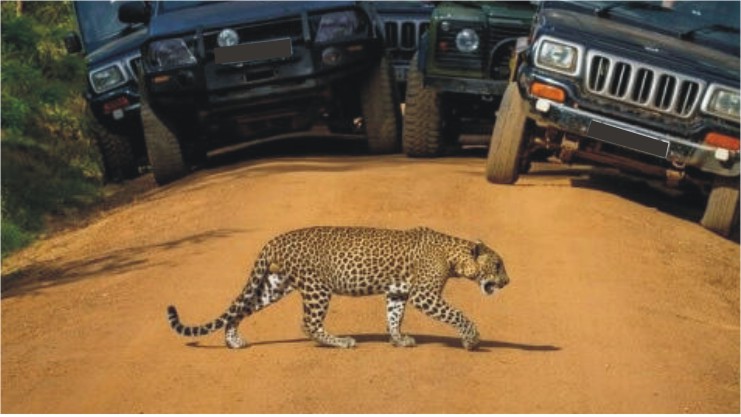 Udawalawe National Park
Udawalawe National Park is an option to explore instead of visiting the highly touristic Yala National Park. Located only 90 kilometres, the park is well known for its high chances of sighting Sri Lankan elephants but have records of leopard sightings too.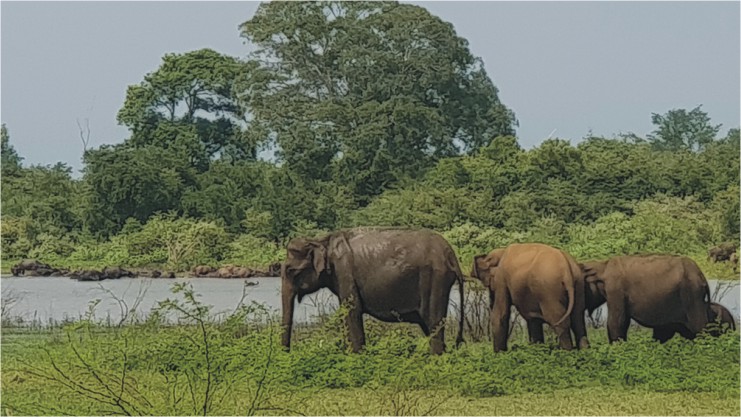 WSThushansenevirathna / CC BY-SA
South Coast
Bentota, Galle, Yala National Park and Udawale National Park are the places to visit when doing a south coast tour of Sri Lanka. Whale and dolphin watching is year round here but November to April is the best time to visit this part of the island.
Bentota
Bentota is a watersports destination, 1.5 hours drive (80 kilometres) from Colombo and can be explored as a day trip from Colombo. Jet skiing, wakeboarding, wind surfing, banana boat rides, canoeing are the water sports activity that can be enjoyed here. Nature lovers can go on a Madu Ganga river safari and explore the wildlife by boat which cruises through the thick mangroves and small villages alongside. Also visit the Turtle Conservation project to see all the 5 species of turtles in their natural habitat.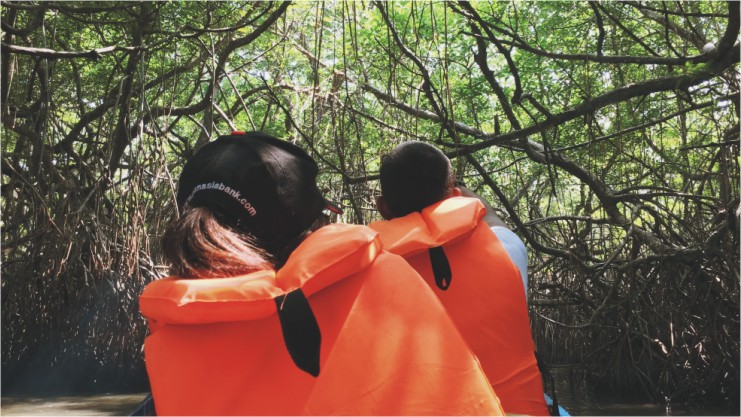 Galle (UNESCO)
Travellers with more time in hand should visit Galle, a port and one of the well preserved colonial-era cities in Southeast Asia. Galle is around 60 kilometres (1.5 h drive) further from Bentota The places to visit here are the Galle fort, the Dutch museum, Great Church and National Maritime Museum. On your way back to Bentota you should visit the small town of Ambalangoda known for its ancient devil mask, devil dancers and unique fancy jewelry at unmatchable prizes.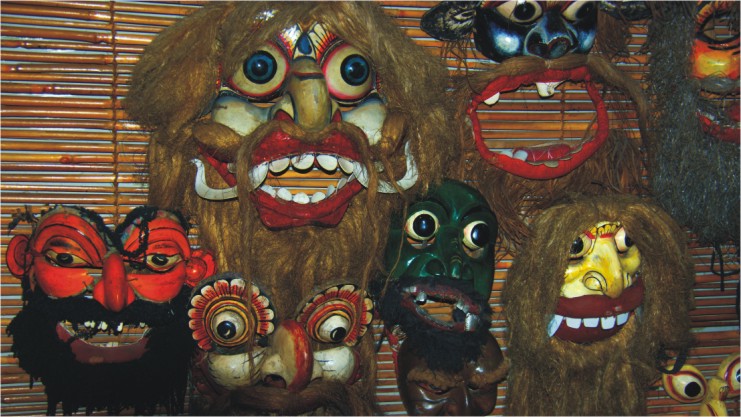 Colombo
Colombo is a vibrant city and commercial capital of Sri Lanka. Some of the city sights include the National Museum, Gangaramaya temple, Galle Face Green – an urban park and Independence square . Shopping, after dark bike tours, walking tours are some other options to explore the city in an experiential manner.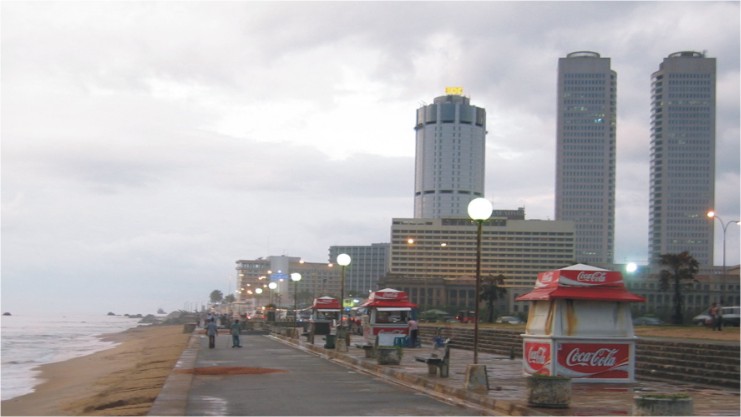 The Ramayana Tour
The Ramayana tour mainly covers visit to temples in Chilaw, Sigiriya Rock Fortress, Hot water springs in Trincomalee, Kandy, Nuwara Eliya and Colombo.
Sri Lanka being a small island country, the travelling distances is not too large. Different holiday itineraries could be planned as per your interest. Places like Jaffna and the East Coast of Sri Lanka are slowly developing as tourist destinations and would be explored to large extent in near future. An ideal way to plan your holidays in the Cultural Triangle with Galle would be to spend 3 nights in Sigiriya, 2 nights in Kandy, 2 nights Galle, 1 Night Colombo. For Yala National Park additional 2 nights is recommended. Nuwara Eliya or the Tea Estates are interesting places to spend a night or two as part of your Sri Lankan itinerary. With flying time of just over 2 hours from Mumbai, different facets of Sri Lanka could be explored as a long weekend destination.
Sri Lanka could also be combined with Maldives for a one week getaway of two very diverse island nations in the Indian Ocean
+91 9833128208 / info@namastetourism.com
Follow us on Instagram: #namastetourism | Facebook & Twitter: @namastetourism